Online Sportsbooks in the U.S.
Welcome to OnlineSportsbooksUS.com where it is our hope is that readers will have a complete understanding of the world of online sports betting by the time they leave this website. Included on our website is everything from the safety and legality of betting with USA online sportsbooks, down to the types of wagering options available. This website aims to be a complete resource for any American that is interested in placing a wager with a legitimate sports betting site to not only find a place to bet, but to also do so with confidence in their wager and, more importantly, that they will not get into any trouble while doing so. If this sounds like what you've been looking for, then sit back, relax and prepare for all the knowledge we're about to bestow upon you! If you're ready, lets not waste any more time with getting started. First, we'll lead out with the question that is on most everybody's mind...
Are Online Sportsbooks Legal?
This is the million-dollar question. Fortunately, the answer is a resounding YES! The laws have changed over time with new regulations helping to redefine older ones. The great thing is that these rules have done nothing but strengthen the online betting community. We will go over a couple of the laws that deal with online wagering and you will see that despite their foreboding names, there is really nothing to worry about when you are considering a site.
Important USA Laws About Sports Betting
The Wire Act – The Federal Wire Act of 1961 is one of the main laws dealing with online sportsbooks for USA players. This decades old law still affects the operation of online sports betting sites by taking away the ability for states to take financial information from other states with relation to online gambling. This law requires that online sports betting sites be located overseas. Four states can operate online sports wagering in their own borders, but they cannot have players from other states.
UIGEA – The Unlawful Internet Gambling Enforcement Act of 2006 is a newer law that relates to the funding methods that sites use to pay their players. According to this statute, any online wagering site must refrain from sending the players winnings directly to a credit or debit card. There is no need to worry about that as these sites have many ways of paying out your money.
These are two of the most important federal laws concerning online sportsbooks. States do not regulate these sites so we only need concern ourselves with the federal statutes. You can learn more on our law pages.
Online Sportsbooks That Accept USA Wagers
Keep reading down this page, as we are about to introduce some of the best sports betting sites available to the U.S. market today. They are all safe and legal, and all of these sportsbooks offer easy and efficient deposit + payout options. Visit these sportsbooks from our website to receive free money on top of your first deposit, and beyond, depending on which sportsbook you select. Each of these sportsbooks can be accessed from any internet-connected device which allows users to involved in the action no matter where they are. If you see something you like, be sure to check the rest of our website, as we have prepared extensive reviews of each viable choice. Without further delay, here's where you want to wager:
MORE: Legal US Online Sportsbooks Accepting US Players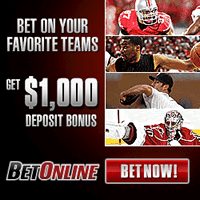 If you are looking for a sportsbook to call home, you can do no better than BetOnline. This site accepts members from all 50 states and offers more payout and deposit options than most other sites. BetOnline has been around for over 20 years and have been growing by leaps and bounds ever since its inception.
One of our favorite features of BetOnline is the welcome and reload bonuses they give to their players. If you head over to the site and make a deposit, BetOnline will add 25% to your account, worth up to $1,000. It doesn't end there. BetOnline tries to keep their players happy and does so by giving you another 25% every time you reload. You can't beat playing with free money, but that is what you get when you sign onto BetOnline. We love this site and we are sure that you will as well.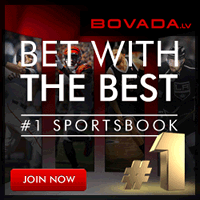 Sports fans in the USA are in luck, there is a phenomenal online sportsbook available to almost everyone. Bovada is a longtime favorite of professional bettors the world over, and has been operating out of Canada for nigh on two decades. Bovada is innovative and fresh even though it is one of the oldest, yet most respected online sportsbooks. Be warned, Bovada cannot accept players from New Jersey, Nevada, Delaware, or Maryland at this time. If you are from one of those states, there are still plenty of excellent online sportsbooks around for you, so check them out.
You will find all of the wager types you would at a land-based sportsbook at Bovada, and you an access them all from the comfort of your own home, or even on your phone. If you are new to sports betting, place some simple straight wagers on the moneyline or the spread to get your feet wet. When you feel assured you can start delving into Bovada's parlays, teasers, pleasers, and all of the other moneymaking bet types.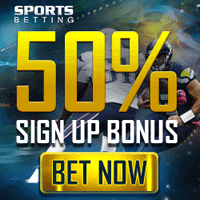 They say a lot is in a name, and that is definitely true for SportsBetting. This site accepts US players from all fifty states, and has one of the most impressive sportsbooks that we have ever seen. It takes real cajones to name your site SportsBetting, so they better put their money where their mouth is. We can tell you that they do. This book gets industry-best lines with lightning speed on all major and most amateur sports and contests.
If you have ever been late to wager on a game then fear that no more. SportsBetting has a mobile betting feature that will give you access to the enormous sportsbook on your mobile device. This is current technology at its best, and this site knows how to keep up with the times. Betting has never been safer, easier, or more user-friendly than it is now at SportsBetting.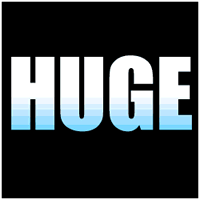 You will stand to win much more than 50 cents when you join 5Dimes. In betting terms, a dime means a grand, and we have a feeling that's what they were going for in the name. Either way, this is one phenomenal sportsbooks for USA players. The site accepts anyone over 18, and joining is free. You will love the simplicity and the non-intrusive layout, which just means that you can log in and access the sportsbook faster than most sites with too many buttons and graphics. 5Dimes is a site for serious sports fans, and it is a personal favorite.
5Dimes is offering up something amazing for US players in the form of reduced juice. This is a special bonus that every member can opt for and it reduces the amount of juice the house takes on each bet. This means that you can spend less and potentially win more. Little bonuses like this litter 5Dimes, and you can tell that a ton of time and energy went in to making the site as great as it is.
Can Offshore Sports Betting Sites Be Trusted?
Not all online sportsbooks are created equal, and you shouldn't blindly put faith into one because that could definitely lead down the wrong road. For this reason, OnlineSportsbooksUS.com has made it a point to only review the reputable ones, and therefore you can be sure you are completely safe. Our recommended USA online sportsbooks are in the business of making players happy...it's how they survive. In order to ensure the financial security of their businesses, each of our recommendations use the latest software and technology to ensure that their customers' information is kept totally safe. The websites on our pages have been around for years and will work hard to please any dissatisfied customer. As one of the top goals for online sportsbooks, users can rest assured they will be kept safe from a variety of threats that could disrupt wagering when using any of the ones seen here.
The sites reviewed here on OnlineSportsbooksUS.com have all of their credentials in order, and have actually been cited and talked about by major news and sporting outlets. That would not be the case if there were anything you had to worry about with them.
Choosing Between USA Friendly Sportsbooks...Details Make The Difference
All of the USA sports betting sites reviewed on these pages are equipped with certain features that all players will enjoy. Those special features along with fast payouts and deposits, bonuses for new and existing members, mobile betting platforms, and live betting are what sets one sportsbook apart from the rest. If you come across a sports betting that doesn't have these options, it's time to look for a new one! We will break down these key areas of concern below, or you may simply choose from the sports betting sites we have listed above, as each has received high marks in all critical categories.
Quick & Easy Deposit Methods
When ready to start betting on sports, the first thing needed to place an official wager is to have money in a sports betting account. And if you don't already have already have funds available for wagering, you are not going to want to have to wait forever to have funds credited, or jump through a bunch of hoops in order to get past the pesky UIGEA. When comparing one sportsbook to another, look for sports betting sites that not only have numerous deposit options, but ones that have multiple electronic deposit methods because those are the ones that usually allow players to be placing wagers within a few minutes.
There is much more to deposits than what we just talked about, and if you want to know more, you can find all the finer points to depositing into an online sportsbook in more detail on our US sportsbook deposits page.
Fast & Easy Withdrawal Options
Once you've won a few bets and built up the profit in your account, it is only natural to want to reap those rewards by turning your the credit in your account into real cash. For this, finding a sports betting site with a known reputation for having reliable payouts is critical. Number one, you want to be sure you get paid when making a request. Number two, once payment is assured, you want to be paid quickly. Make sure the sportsbook you select checks both of these boxes, and a much more positive wagering experience is all but assured.
If you suspect there is much more to learning about sportsbook withdrawals, you are right! There is way more than can be covered here so be sure to check our US sportsbook payouts page that is dedicated to getting money out of sports betting sites, and all that comes with it.
Generous Deposit Bonuses & Other Promotions
Each online sportsbook has its own unique way in how they entice new members to sign up, and keep existing players actively wagering. The most common way to achieve this is through the use of promotional offers which most commonly involve adding a percentage on top of qualifying deposits. In fact, almost every USA friendly bookmaker will have some sort of welcome bonus, and many people base their decision on where to bet based solely upon which sports betting site currently has the biggest one. While not the worst strategy, going with this method could potentially be a downfall depending on the stipulations attached to a sportsbook's offer. The same thing can be said about reload bonuses as well. To avoid a potential pitfall, look for sportsbooks that have reasonable terms and conditions for the acceptance of their bonus.
If you want to learn more about what constitutes a reasonable sportsbook bonus versus one you should avoid, do not hesitate to take a quick peek at our dedicated sports betting bonuses page. There is where you can get a much better understanding of how sports betting bonus offers work, and even see our recommendations for sportsbook bonuses that you should accept.
Multiple Interface Wagering: Computers & Smart Devices
One of the exciting things recently added to the repertoire of many of the leading sports betting sites for US players is the ability to make a wager on a smartphone, or connected tablet. Online sportsbooks have been accepting wagers over the web via computers since the mid-90s, but mobile sports wagering has totally changed the game, and it is now considered a 'must have' for anyone that considers themselves a sports betting enthusiast. If you're not on board, that's fine, but for those who are interested, be sure to look for a sports betting site that supports the device you would likely be using. As a general rule of thumb, all Apple products (iOS) and most Android-powered devices are compatible, however devices like Blackberry and Windows Phone may also work.
For a complete rundown of mobile online sportsbooks, and the devices they support, please visit our mobile sports wagering guide. We will go more in-depth about placing wagers through non-traditional means, and even talk about a few special bonuses created especially for those who want to try mobile sports betting online.
Alternatives To Wagering On Game Lines
Because betting on sports is so much more than just picking the winner of an upcoming game, match, contest, etc., it is important to find an online sportsbook that does more than just have wager lines on the point spread, and over/under combined point totals. While it is possible to be very successful betting on only basic game lines, other types of sports betting odds like proposition wagers and future betting lines can take the excitement of wagering to a whole other level. Instead of betting on the winner of a game, you might choose to bet on a player prop that revolves around an individual performance, because in the end a winning bet equals profit no matter what type of betting line was wagered upon.
To preview some of the different types of sports odds that are commonly encountered when betting sports online, please visit our page that examines how each of them differs from the next. Learning about these now could directly influence how you decide to place your next / first bet, and lead to more profitable sports wagers.
Multiple Ways To Wager The Same Betting Line
Another exciting thing about betting on sports is the many types of US sportsbook wagers that can be placed on a particular game. All of the different types of wagers can take a little while to get used to, but once you have them down your wagering experience will grow rapidly, and hopefully your bankroll too. Before choosing a sportsbook, checking to make sure they have a variety of ways to wager can definitely be the difference between winning or losing, especially if you know how to properly place your wager.
Although most of the information about how each wager type works should be available within the help section of an online sports betting site, please still visit our page dedicated to explaining what each one is, how it works, and when you should use them. This subject is a bit advanced, but we're confident that we can break it all down in easy to understand terms.
In Progress & Live Betting Functions
Before the advent of this feature, bettors had to be content with simply placing a bet on the outcome of a game and waiting for it to finish to see if the bet won and possibly make another wager. That is certainly one way to enjoy your online experience, but it does not have to be that way anymore as live betting features have now added the function of wagering on sports in real time as games are being played. Many of the best USA sportsbooks are keen to this advancement in technology, however not all are created equal. When looking for the best live sports betting sites, look for the ones that not only feature adjusted game lines (spreads, moneyline, point totals), but ones that also have running proposition wagers for the game, individual teams, or even individual players.
Look to our live sports betting guide to get more information on exactly how this form of wagering works. It can be very fast paced, and if you aren't aware of what you're doing, it can get very expensive too! Check our page to see which sportsbooks have a complete live betting application, and learn about the little things that could potentially lead to trouble.
Daily Fantasy Sports Sites
If you are into fantasy sports then you'll want to check out one of the great daily fantasy sites that are available. One of our favorite features of these sites is that instead of being tied to a single fantasy team for a whole season, you can change players in your lineup based on shifting circumstances. With traditional fantasy sports, if your star player was hurt you were out of luck, but now with these day-to-day fantasy sports sites, you can simply replace that person with another star player to the fill void...and hopefully lead you to victory!
Are Daily Fantasy Sports Legal?
Earlier we talked about the Wire Act and UIGEA. These laws specifically differentiate between games of chance and games of skill. The laws governing online wagering consider daily fantasy sites games of skill and are therefore exempt from those laws. They payout millions of dollars per week in prizes and players can always get payouts very fast. You can find out much more about fantasy sports sites on our fantasy sports page.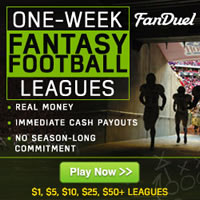 FanDuel has quickly become a leading name in daily/weekly fantasy sports. This site accepts US players from every state accept for Washington, Montana, Louisiana, Iowa, and Arizona. If you are in any of these states, then you will need to look elsewhere. Everyone else can enjoy a great time entering daily contests and winning big pots. They claim to payout over $2 billion in cash prizes every year, and when you take a look at the leaderboard that is easy to believe.
FanDuel has over 20,000 leagues for you to select from every day, and every single one pays out well. It is not uncommon for first-time players to win thousands on his, or her, first fantasy contest. Still, fantasy sports is definitely skill-based, and knowing your stuff will reward you greatly. Sign up for free at FanDuel today and see what you've been missing.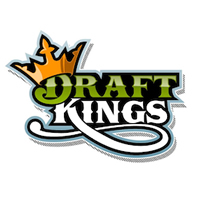 If you are new to the world of daily/weekly fantasy sports, then DraftKings might just blow your mind. This site takes traditional, tournament-long fantasy sports and ups the action tenfold. USA players can join up today and experience what it's like to assemble a dream team for a single game, and collect the winnings the next day. That's right, no more waiting until the season is finished, daily fantasy sports lets you create a new team for every game and put in multiple entries. Be forewarned, as of now DraftKings cannot accept players from Arizona, Iowa, Louisiana, Montana, or Washington.
DraftKings not only lets you enter contests for the "big four" sports leagues, you will also find PGA golf, UFC mixed martial arts, soccer contest, NASCAR racing, and even contests college sports. More than one-billion dollars is guaranteed this year in winnings, so there is really no reason at all not to check this site out if you are even slightly interested in sports.