USA Sports Betting Laws & Regulations
If you are a fan of sports in the US, you have come to the right place. This sports betting law page is going to be your number one resource for understanding the statutes and rules that surround wagering. You probably have many more opportunities than you realize, and if you are already an avid sports bettor, this page will serve as a great refresher. The legalities regarding sports wagering in the states are simple to understand once you get a grip on the fundamentals.
This page is going to point out and examine the specific laws that affect books in the states, and give you a complete understanding of what is allowable. We can assure you now that, no matter what state you live in; there are safe options for getting in on some wagering action. We will show you some great websites that offer unparalleled sportsbooks, rivaling anything you can find in 'Vegas. Get ready to gain some knowledge and make some money.
Laws That Affect Sports Betting In The United States
While millions of people in the U.S. and all over the world enjoy sports wagering, there are a few laws pertaining to them that we will discuss. Some of these rules have been around for half a century or more, but they are still in place to regulate the industry. The Federal Wire Act, PASPA, and UIGEA are three of the regulations that affect the online wagering community. They may sound intimidating, but we will show you that there is nothing for you to worry about as you enjoy your online betting experience. Since state laws do not regulate online sportsbooks, we will only be dealing with federal statutes.
The Federal Wire Act of 1961
This law passed during the John Kennedy administration with the express purpose of limiting or eliminating the organized crime element in wagering. The mafia had controlled gambling in the U.S. for quite some time and Congress decided to do something about it. This legislation has nothing to do with the average bettor and is only concerned with those whose business it is to operate a gambling facility. The spirit of the law goes after those facilitating sports betting. Because of this statute, online sports betting sites cannot transfer wagering information between states. The sites that we review are all located outside of the U.S. so the Wire Act does not affect them. Check out more information on our Wire Act page
The Professional and Amateur Sports Protection Act of 1992
PASPA sets a limit on the number of states that can operate their own sportsbooks. Those states are Nevada, Oregon, Montana, and Delaware, and they are all allowed to regulate land-based sports wagering within their borders, however only Nevada and Delaware have chosen to do so. These states were designated as being exempt from this law because they had all been offering some sort of gaming option before this legislation passed. When it comes to how PASPA affects the act of wagering online, this law expressly limits only land based sports betting options. Because of this, the Professional and Amateur Sports Protection Act should be of no concern to those using the USA sports betting sites we recommend. There is more information available on our PASPA page.
The Unlawful Internet Gambling Enforcement Act of 2006
The UIGEA regulates the transferring of funds between online sportsbooks and their players. It says that online sportsbooks cannot transfer your winnings directly to a credit card. There are plenty more options available to receive your winnings so this is another law that shouldn't concern you. This law is quite controversial because it was not even read by anyone in committee before it was passed. The law was added to the SAFE Ports Act at the last minute right, before Congress adjourned. More information can be found on our UIGEA page.
State Laws About Online Sports Betting
Most individual states don't have anything in their laws regarding sports betting. This is because the federal laws do the job for them by deciding which states can offer books. This does not meant that you can't join an online sports betting site, it just means that you might not find a land-based book in your state. The PASPA, a federal law, only allows four states to have their own sports betting establishments. Out of those four, only Nevada and Delaware actually have any. This is why most other states don't have any legal language about sports wagering. Rest assured, you have safe and legitimate online options no matter what state you live in.
Most online sportsbooks accept people from all 50 states. There are some however, who have a few exceptions. As long as the site accepts members from your state, you are ok to use it. Again, most individual states do not regulate sportsbooks, the federal laws do. This is good news, because there are most likely no strictures in your state involving betting on a game at a legal online sportsbook.
Legal Age To Bet On Sports
The legal age for placing a wager on most sports betting sites is 18. There are certain states that require you to be 21 to legally wager. When you are deciding which sportsbook to use it is wise to check your particular state laws. Always go with the higher number. For instance, if the site says 18 but your state law is 21 then go with 21. There could be legal ramifications if you do not follow these guidelines and you can have your account suspended and may lose your funds so make sure you are ok with your state laws before signing up.
Online Sportsbooks That Are Legal For U.S. Residents
When choosing a US online sportsbook, there are many things to keep in mind. As we have shown, there are plenty of options available for everyone that is old enough, but not all online books are created equal. We will show you a site that is not only legal; it also has one of the best reputations and some of the fastest lines in the business. This place has 24/7 action throughout every season, and you might even discover some new sports you didn't know about, such as cricket or handball. This site has the best odds on the big four (NFL, NBA, MLB, NHL), as well as college leagues, so strap in for some fun and profitable legal betting.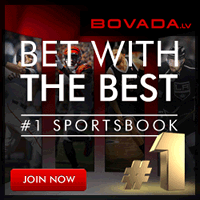 When looking for a sportsbook to call your own you need look no further than Bovada. It is the number one site on the planet, with more players than any of the competition. As long as you are not from Nevada, Delaware, Montana, or Oregon, you may use the site and start enjoying your online adventure. Bovada offers some of the fastest payouts for a US sportsbook and they have an exceptionally deep sportsbook. You can bet on everything from the NFL and NBA to other less popular sports like tennis and golf. Since it is an international site, you can also bet on things like soccer, rugby, and even cricket.
There are so many sportsbook wagering options available to you at Bovada that you never get bored. Let's say you want to take a break from the sports action, you can place wagers on entertainment or even political or business props. When you sign on today, you will receive a 50% bonus on your initial deposit up to $250. That is $250 to spend how you want. There's nothing better than wagering using someone else's money. Once you have had the opportunity to get some free cash you may want to let your friends know about the site. You will be doing them a favor and in the meantime, you will receive a 200% bonus on their initial deposit up to $100. So, why not join the millions of others that call Bovada home? You'll be glad you did.