Deposits At US Online Sportsbooks
If you are going to enter the exciting world of online sportsbooks for USA players, you will first need to fund your account. This page will show you many of the options available for you to deposit your money on order to make a wager. Within, we will go into the legalities that govern deposits and discuss details about many of the funding methods. In the end, readers should leave this page with a better understanding of what goes into the deposit process, including many of the finer points that many online sportsbooks only talk about in the fine print. Since sports betting starts with making the first deposit, lets not waste any more time and get started with the basics before moving into the more advanced topics.
How To Deposit Into An Online Sportsbook
When you come to the site of your choice, you will need to sign in for the first time. The site will ask for things like name, address, and gender, then you will choose a password for your account. There will be a "join now" button that you will click, followed with the site sending you a confirmation email. Click on that link and you will now be a full-fledged member. Once you have done this you will want to fund your account by clicking on the "cashier" tab near the top of the site. You will then see page where all of your options for deposit are available in list format. We will go through some of these methods briefly so that you have an idea of your deposit options.
Sportsbook Deposit Methods For US Residents
The majority of U.S. online sportsbooks have many options for funding your account. Some sites don't have as many methods but most should have the ones we will discuss. Online sportsbooks do their best to give you as many options as they can to make it easy for you to fund your account since they want you to have access to all the site has to offer. Most sites will take debit/credit cards, money orders, person to person, and bank wire transfers, while others may offer a few more options such as Bitcoin.
Credit/Debit Cards – This is the most popular method and if you have ever purchased anything online you will be familiar with the format. Earlier we said that UIGEA stopped online sites from paying out to credit/debit cards, but there is no prohibition against funding your account this way. Many sites take Visa, MasterCard, Discover, and American Express though you should be able to find the specific cards that the individual site accepts in the cashier section of most U.S. online sportsbooks. The credit/debit card is safe and easy to use so it will probably be a big part of your funding approach. There will usually be minimum and maximum deposits available for each card, but you can find that information on the site. Check out our credit/debit card deposit section for more information.
Wire Transfer – This is probably the second most popular way of funding an account. Making a deposit via wire transfer means the use of Western Union, MoneyGram, or other money transfer system to add money to your sports betting account. You just contact the site with your details like transaction number and they will make sure the funds are available quickly, usually in just a few minutes. You can learn more at our person to person deposit page where you will find a full breakdown of this safe and popular method.
Money Order – That's right, the good old-fashioned money order is one of the many ways you can fund your online adventure. Just go to your local supermarket or bank and get a money order for the amount you want deposited. When the online sportsbook receives your money order, they will deposit that money into your account. Money orders generally have higher minimums and maximums so this is a good option for larger deposits. You can find more information on our money order deposit page.
Bank Wire Transfer – This is another good option for large deposits as this option usually gives you an unlimited amount you can transfer. Many users also like the fact that the money is going between banks and there isn't the bother of having to go and get a money order or deal with cash in any way. When you are ready to transfer money just contact customer service and they will give you their bank account information. You can then go online and complete the transaction without leaving your house. More info is available on our bank wire transfer deposit page.
Bitcoin – Bitcoin is a recent addition to online payment methods used by sportsbooks. Bitcoin is considered its own currency and is therefore subject to an exchange rate. That will be the only "fee" associated with this type of transaction. This is also one of the fastest methods for funding your account. Click the "cashier" button and then click on "deposit". Click on the Bitcoin logo and enter the amount you want to send. There is a Bitcoin wallet there for you to send it to. This method will have you up and running in as little as a few minutes. Check our Bitcoin deposit page for more on this great option.
More Things To Know About Depositing Into Sports Betting Sites
Deposit Fees + Surcharges: Most deposit methods have fees associated with them because of international exchange costs. These online sportsbooks for U.S. members try to keep the fees as low as possible and even cover some of the fees if you make large enough deposits. For instance, on one site you will get a refund of fees if you deposit $250 or more using the Person-to-Person-Western Union type transaction whereas on another site there is a fee of between $12 and $50 depending on your deposit amount. Each site is different so check to see if there are fees associated with your deposit.
Minimum/Maximum Deposit Amount: The minimum and maximum deposit amounts associated with each type of transaction will vary based on the method, as well as from sports betting site to sports betting site. It's best to look up the particulars on your site of choice. For instance, one site we review has a minimum deposit amount of $50 and a maximum of $900 using the person to person wire transfer method, while another has a minimum of $100 and a maximum of $650 using the same method. On money order deposits, there is a minimum of $300 and a maximum of $9,000. On the same site, the minimums for deposit on both a Visa and a MasterCard are both $50, but the maximum is $3,500 for Visa and $1,500 for MasterCard. All of the associated fees change with each site because of international laws and exchange rates so it's best to check the individual sites for particulars.
Time To Credit Deposit To Account: The speed that your deposit goes in to your account depends on the method you use. If you use credit/debit cards your money will be available within just a few minutes. Using the Person-to-Person option can now be done completely online and your money will be available almost instantly once the funds are received. When using money orders there will be a time element involved since the money order needs to be sent and processed. This can take anywhere from a couple days to over a week. Other options that will give you faster access are Bitcoin and bank wire transfers. In all cases, the site will do their best to get your deposit into your account as soon as possible.
US Online Sportsbook Payouts | US Online Sportsbook Odds | US Online Sportsbook Wager Types
Sports Betting Sites With Easy Deposit Options
Now that we've gone over the common types of ways to fund sports betting accounts, let us introduce you to some of our favorite sports betting sites that excel in helping U.S. residents bet on sports with real money. The legal sportsbooks for US residents we've reviewed below are known for not only having numerous ways to load your account with funds, but they are also well known for having friendly limits, speedy deposit times, and they don't charge much, if anything at all, when users add more money to their sports betting accounts. If you want more info about any of these site, please consult our full length sportsbook reviews for the entire rundown of deposit options, or whatever else you want to know!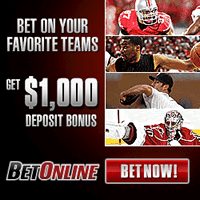 BetOnline is our choice for the best wagering site period. You don't have to worry about which state you live in since they accept members from every state. This site has been around for over two decades and they have really used that time to perfect the site. There are more deposit options available at BetOnline than almost any other site you'll find and there payout methods are the best. You can deposit using credit card, money orders, wire transfers, Bitcoin, and others, and your money will be available to you quickly.
If you go over to BetOnline and sign up you will get a 25% sign up bonus. That bonus can be worth up to $1,000 in free sports plays. That's $1,000 of someone else's deposit that you can use to make money for yourself. It doesn't stop there. BetOnline loves their players and is constantly looking for ways to reward them. Whenever you make a qualifying deposit at BetOnline, you will get a 25% life bonus. This simply means that you will always have extra cash to fund your online adventure. We can't recommend BetOnline highly enough. Check it out and we are sure you will be happy you did.
Safety & Legality Of Depositing Into Online Sportsbooks
Online sportsbooks are some of the leaders in site safety as they deal with hundreds of thousands of transactions on a daily or weekly basis. They use the best encryption techniques and SSL secure transactions to ensure the safety of your money. These sites wouldn't have their stellar reputations if they were losing their players due to security breaches or cyber theft.
MORE: Is It Legal For US Residents To Bet On Sports?
There are some laws that cover US online sportsbooks and we will touch on those here. These sites have been compliant with all of the rules, and in most cases have been functioning for decades. One of the federal laws that play a hand in online sportsbooks is the UIGEA, which stands for the Unlawful Internet Gambling Enforcement Act. This statute passed in 2006 as a last minute addition to the SAFE Ports Act, without many members of congress even reading it. The UIGEA has to do with how online sportsbooks process financial transactions in the USA. Ultimately, this law makes it illegal for online sportsbooks to deposit your winnings onto a credit card. Don't worry, as we will show you, there a plenty of ways to receive your money, and you can still deposit money to fund your account using a credit card.