Daily Fantasy Sports Websites
Fantasy sports have been around for decades as a great way to add some extra fun if you are into following your favorite teams. There are over 40 million others playing fantasy sports in the U.S. and Canada. Internet based options for fantasy leagues range from season long traditional leagues to the newest type, which are daily/weekly game sites.
In this article, we will cover the difference between traditional and daily/weekly sites. We will also explain the legality of the sites. We will also talk about and give a short review of the two top sites for daily/weekly games. You will learn how to get started playing in these exciting contests, as well as, what kind of features and games are available. We will go over the sports that are available for you to put money on. Our hope is that after you finish reading this review you will be energized and ready to begin enjoying the crazy amounts of fun these daily fantasy sites can be. They are 100% safe and secure and most importantly, legal. You have a salary cap draft that is simple and fast, you can watch your teams stats change in real time, and you can get some great bonuses. Using your mobile device just adds to the fun. Why don't you start today and check them out? We think you'll be glad you did, so lets get started!
Is It Legal To Play Online Fantasy Sports For Money?
Since these sites offer what are considered games of skill, they are not subject to the same laws as online sportsbooks. Federal & State laws for online US sportsbooks such as the Federal Wire Act and the Professional and Amateur Sports Protection Act are aimed at stopping the organized crime element that was using gambling as a means to fund their gang related activity. As long as you are not trying to make money off other people's bets you are fine where the law is concerned. There are other laws that regulate legal online and land based sportsbooks, but you don't need to worry about them as fantasy sports is specifically not included in the definition of gambling or sports betting.
It is perfectly legal in all but 5 states to participate in fantasy sports play. The only states that have laws concerning making money from fantasy sports are Montana, Louisiana, Washington, Iowa, and Arizona. If you live in one of these states, you will not be able to use these daily/weekly sites. That may change in the future, but as of this writing, it is not allowed. We are going to go over two of the top sites when it comes to fantasy sports and they are both 100% legal.
Best Websites For Day To Day Fantasy Sports
There are two different types of fantasy sports for you to get involved in. The traditional fantasy sports league is a season long endeavor where you pick a team through a draft and then follow the team throughout the season. With the newer daily/weekly sites, you no longer have to wait until the end of a season before you collect your winnings. You can pick a new team every day and get paid that same day. For that reason alone, many find the daily sites to be more exciting.
The daily/weekly sites that we will be discussing are legal and safe. They offer sign on bonuses as well as the option to refer a friend and make money off their US sportsbook deposits. Instead of using traditional drafting methods which are tedious and time consuming these daily sites offer drafting based on a salary cap. We think you will find that the many advantages of the daily sites make them the preferred choice for today's world.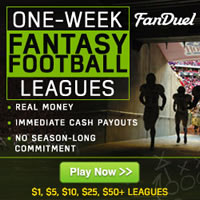 FanDuel is the number one site in the world for daily/weekly fantasy sports. It offers all of the action you could ask for. They cover all of the traditional leagues like the NFL, NBA, Major League Baseball, and the NHL. You can also play NCAA football and basketball. They have over 20,000 leagues available to play every day and give away over 10 million dollars in cash prizes per week. They have leagues starting as low as $1 and instant payouts as soon as the league ends.
FanDuel offers a variety of bonuses to their players. One of these is the "refer a friend" bonus where you receive money every time a friend that you refer adds money to their account. In addition, when you first sign up you can get between a 30% and 75% bonus depending on how much money you deposit. You can try out the site and not worry about losing your money since FanDuel offers a 100% money back guarantee. If you enter your first contest and lose, FanDuel will refund all of your money up to $100.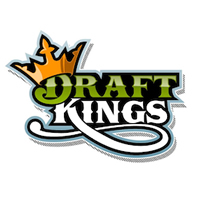 DraftKings is the best when it comes to fantasy sports. With more options than most sites, you can bet on the traditional professional sports like the NFL, NBA, and MLB, but you have the option of betting other sports as well like soccer, golf and even MMA. This site has been praised by the likes of none other than the New York Times and the Wall Street Journal so you can be sure that it is safe, secure, and legal.
DraftKings has the largest US sportsbook payouts of any other site and is guaranteeing over $1 billion in cash and prizes this year. DraftKings also has the largest sign on bonus with them matching your deposit 100%. You can access the entire site from your mobile device so you'll have all of the features readily available at any time.
How To Play Daily Fantasy Sports
To enter a contest just pick the tournament you want to play in. They will be listed in a very easy to follow format so you shouldn't have trouble figuring it out. There are help pages available on both sites to guide you through the process. Once you pick a contest, you build a team using the salary cap draft. This way of drafting is superior to the old fashioned "snake draft" where you had to pick one player and then it went down the line for everyone to pick who was left. With this salary cap method, you can see how much each player counts against the salary cap and then draft them up until you reach your cap. It's that simple. If you win, your money is deposited into your account that same day.
Daily Fantasy Sports Contest Formats
Head over to the "lobby section" to see all of the contests available to you. There are many different options. Guarantees are just what they sound like; you get a specified guaranteed payout, which is shown before you enter. Your other options are beginner, steps, multipliers, leagues, and 50/50 to name a few. Almost any kind of contest you can imagine will be found on these sites, and don't worry if you are a newbie, there is help available to show you how each contest works.
Another one of our favorite contests is the head to head. You can go up against your friends in one on one matchups with the daily fantasy site of your choice doing all of the work. You can watch in real time as your team dukes it out with your opponent's squad.
Sports Featured On Daily Fantasy Sites
Some sites offer more options than others do. On all of the sites, you will find the major sports like NFL, MLB, NHL, and NBA as well as NCAA Basketball and football. On some, you will find additional sports like NASCAR, MMA, and PGA golf among others. Therefore, if you have an idea of a "dream team" now is the time to put it in place. You can challenge others to see if you have the superior team and you will only get better with practice. Soon you will be an expert and the money will flow like water.
You can compete against friends and meet new ones. The possibilities are endless. Another fun pastime is playing different leagues at once. Because the contests are daily, you can play an NHL game while playing an NFL game, all the while paying attention to your NCAA fantasy team.
Features To Look For At Daily Fantasy Sports Sites
Live Scoring & Real Time Updates
With these daily fantasy sites, you will see scores updated in real time. All of your player profiles update as soon as they make a big catch or a three pointer. You will get the excitement of watching the constant changes and seeing how close you are to the big win.
Another great feature of these fantasy sites is that you can access the entire site from the palm of your hand. You can be sitting at the park and check on your teams and make changes as needed without having to be sitting in front of a computer. If you have a device that connects to the internet, you are ready to go.
Deposit Bonuses & On-Going Player Promotions
There are so many bonuses available on these sites that it's hard to fit them all in. We will go over a couple that will make your fantasy experience a great one. Most sites worth their salt have sign on bonuses to help you fund your account initially. It's always great getting free money and it's even better to win more money when you didn't have to come out of pocket for it.
You probably have friends that you would like to compete with on the site. That works out great because most online US sports betting sites offer bonuses when you refer a friend, where you will get money added to your account every time they load money onto their account. That's a continuous stream of additional cash to help fund your fantasy adventure.